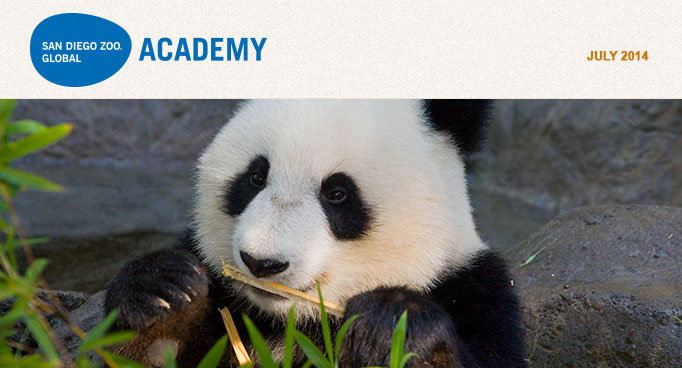 AAZK Online: Building a Foundation for Engagement
By Bob Cisneros, President of the American Association of Zoo Keepers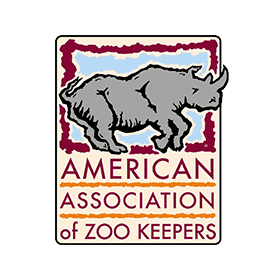 The American Association of Zoo Keepers (AAZK) has entered the 21st century of collaborative learning and communication thanks to the San Diego Zoo Global Academy. As a professional organization of almost 3,000 members, our mission focuses on professional development for keepers and support for conservation programs worldwide. With 100 chapters across the country and in Canada, streamlining our communication practices has been challenging. The platform provided by the San Diego Zoo Global Academy has enabled us to communicate effectively while increasing engagement at the individual member, chapter, and national committee levels. We have branded our Academy collaborative learning environment as AAZK Online.
Our goal is simple: populate our nation with AAZK working groups and redirect our best practices in communication to include our site. It's similar to building a model home community. If you build it, they will come, as the saying goes, but how do you develop a sustainable energy where occupation engagement is high? It is much more appealing to drive through a neighborhood that is occupied, vibrant, and thriving. Beginning first with our National Board members and professional development committee, we began to shape the infrastructure of our AAZK Online site by utilizing the events, calendar, resources, and discussion groups. Chapters were then invited to join, and many have set up their own private chapter discussion groups, conducting their chapter business and communications via AAZK Online.
We are in the process of beginning our next phase of occupation and will be integrating all of our national committees, programs, chapter officers, and future conference attendees into our site. These are the working groups of AAZK, and we will begin to redirect how we do business as an association in the following ways:
Committees will communicate through dedicated discussion groups, utilizing the calendar features and resources.
Chapter officers will have an opportunity to communicate effectively will all other national officers and share resources. National AAZK will also be able to communicate more efficiently with Chapter officers.
Conference attendees will have access to resources in advance of the conference, as well as have the opportunity to participate in discussion groups specific to conference workshops.
Conference attendees who are attending our certification workshops will be directed to AAZK Online where they will be placed in dedicated discussion groups, receive materials specific to their workshops, and receive their on-line assessment of their certification workshop
This is a huge paradigm shift for our association and it brings us closer to fulfilling our mission of becoming a leader in the zoo and aquarium industry by fostering professional development and personal connections that advance animal care, animal welfare, and conservation.

For more information about AAZK Online, please contact Bob Cisneros at bob.cisneros@aazk.org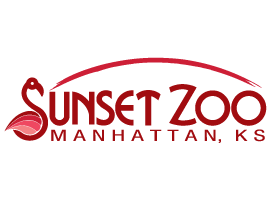 Global Academy News
San Diego Zoo Global Academy Puts the Sunset Zoo in the Spotlight!
The Sunset Zoo has expanded their use of the Academy's collaborative learning environment! Now they will have two privately branded customized sites, one for their employees and one for their volunteers. Nicely done!
Presenting Academy's Animal Care Training Certificates: Your Big Day!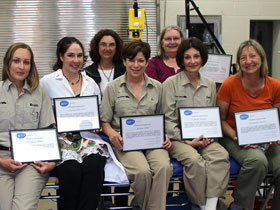 Several animal care staff members realized a milestone this month here in San Diego. Sixteen animal care workers completed all 13 of the Animal Care Training classes and were presented with Academy certificates. The Academy plans to mail certificates in a presentation envelope to the directors of each of our partner institutions when members of their staff complete the series. The director will then be able to present the award to staff at their institution. We would like to thank the Phoenix Zoo for the idea of including the partner institution's logo on these certificates. We love the idea! They look pretty good, too.
Newest Module in Introducing Animals Series—
Giant Pandas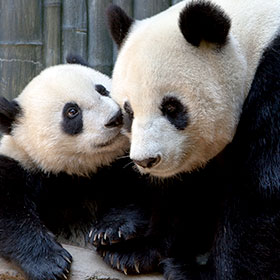 Enter the conifer-bamboo forests of China inhabited by giant pandas. Discover this charismatic animal's physical characteristics, distribution and habitat, behavior and ecology, and reproduction, as well as important conservation efforts dedicated to its protection. Remarkable images show giant pandas in ways you've never seen before (think: an Xray showing that mysterious pseudothumb, a newborn panda cub, pandas in the forests of China), and video provides insights into panda behavior. Interactivity sprinkled throughout the module engages participants in the learning process, and questions at the end of each section ensure that they have mastered fundamental concepts before they move on.
The course takes about an hour to complete, although participants progress at their own pace and may repeat the entire course or sections of the course as many times as they like. The Giant Panda module can easily be integrated into your current training program. Team members can complete the module online, anywhere and at any time. They will be able to master key vocabulary and concepts, giving them a solid foundation that allows them—and trainers—to make the most of in-class and on-site training.
These Introducing Animals modules are an awesome resource for interpreters, but they offer insights to veteran animal keepers too, providing a glimpse of natural history that helps keepers address husbandry concerns. Whether you've worked with these animals for years or you're a brand-new interpreter or docent, the module will equip you with a better understanding. The Giant Panda module joins modules on Polar Bears, Tigers, and Gorillas in the Introducing Animals series. Look for modules about cheetahs, apes, lions, and elephants coming soon.
See Giant Panda Module Sample Here
Course Assignment Tool Within Custom Sites for Institutions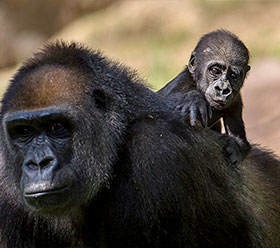 Do you need to quickly assign courses to individuals or groups of individuals? If so, take a look at the Course Assignment Tool for administrators of Custom Sites. As an example, if you have a group of two or three keepers and your plan is to have them take the Animal Care Training series prerequisite courses, then with the Course Assignment Tool, you can simply select the USERS from the list, select the courses you want them to take, click on "setup assignment," then click "send out assignment." You can select an option to send an email notification to the assignees. The notification explains that a new course has been assigned.
Thinking that you forgot to make an assignment? Simply click on "Review Assignments" at the top of the page, and you will see a running history of all assignments made. If you are reviewing the assignments that you have just made, there is an option to cancel an assignment in case you change your mind.
You can now consistently manage and make sure that needed courses are taken at the appropriate time for the appropriate position. This Course Assignment Tool can also be made available to individual department heads so that they may assign courses to learners within their departments. You can achieve this by creating Reporting Groups.
Interested in learning more? Watch our video demonstration of this process, along with reporting and other Academy partner, CypherWorx innovations, here.
Still have questions? Please call Chris Glenn at 585-545-1800 or email cglenn@cypherworx.com
Helpful Hints from San Diego Zoo Global's My Academy and The Volunteer Connection
My Academy and The Volunteer Connection are the privately branded custom employee and volunteer sites at San Diego Zoo Global. With the launch of the San Diego Zoo Global Academy, we set out to integrate online training into our own organization, and this section of the newsletter highlights helpful hints from our respective sites. There are many innovative ways to use the capabilities of Custom Sites, and these helpful hints are intended to share insights and spark ideas about how to use yours!
My Academy Helpful Hint
Do you have employees in remote locations?
If so, and they have Internet access, you can now have them access their training, group activities, and resources from their remote work facility or from anywhere.
Have questions regarding the helpful hint? Ask Stephanie Crise, My Academy, at scrise@sandiegozoo.org
Volunteer Connection Helpful Hint
Do you want to offer continuing education opportunities to your volunteers?
It's easy to do in your Volunteer Connection site, available to them 24/7! Create a "VOLUNTEER UNIVERSITY" group with resources. You can even add "courses" as subgroups with different topics, such as "Zoos 101," "Operant Conditioning 101," or "Bioinspiration 101." Load each course with content from SDZG Academy and/or your own resources. Your volunteers will love it!
Have questions regarding the helpful hint? Ask Tammy Rach, The Volunteer Connection, at trach@sandiegozoo.org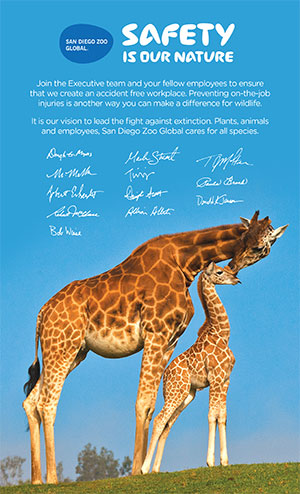 NEW! Safety Training Helpful Hint
Safety in the workplace is not only a requirement by law but also the right thing to do. Safety is a priority in the Zoo and Aquarium industry. In upcoming issues of this newsletter, I'll share with you the tools that I have found in the Academy "tool box" that allow us to explore and apply innovative techniques for comprehensive safety training for our employees. My name is John Liken and I am the Health and Safety manager for San Diego Zoo Global. I have dedicated a lifetime to safety and have been with San Diego Zoo Global for 12 years. I look forward to sharing ideas and collaborating on safety-related projects with you.
Have questions regarding the helpful hint? Ask John Liken, Health and Safety Manager, at jliken@sandiegozoo.org
Zoo & Conservation News
Scan through all of the Zoo & Conservation News compiled by the San Diego Zoo Global Library this week at the library website.