Global Academy Updates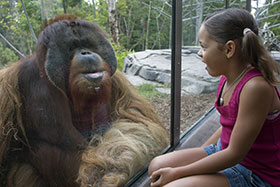 WEBINARS
Upcoming October Webinar, October 23
Universal Design: Equal Access for All
The intent of Universal Design is to provide "Life Span" or "Barrier Free" designs. The principles set forth in Universal Design are that products and built environments be designed in such a way that no matter a person's age or ability, all are be able to use them. The design is not only intended for a person with a disability but also for a child or shorter adult to easily be able to use in an inclusive way. This session will review the history of Universal Design, what makes it different and more effective than present accessibility codes, and examples of how these can be included in zoo, aquarium, and museum design.
SIGN UP FOR THE UNIVERSAL DESIGN WEBINAR HERE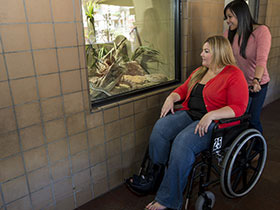 Last Month's September Webinar
Accessible Exhibits: Designing for Guests
Our September webinar was the fourth in our series of the Americans with Disabilities Act specific presentations. Mark Trieglaff provided details on how to make exhibits accessible to people with disabilities. The session provided a review of what is required under the ADA and also reviewed standards developed by the American Alliance of Museums and the National Park Service. These two standards, although not required by the Department of Justice, provide guidance that will make your exhibits easy to use and effective in communicating their messages to your guests.
For more information about webinars, or to be added to our webinar notification list, please contact: Debbie DiBacco at DDiBacco@Cypherworx.com.
CLASSES
As you may have noticed in looking at the available classes on the San Diego Zoo Global Academy site, we have a little something for everyone. This month, you might be interested in our Nonprofit Program Marketing class. This course gives you the tools to ensure focused and effective marketing, advertising, and promotion of your programs. You will learn how to discover what the target market for your nonprofit program is, reach your target audiences in the most cost- and mission-effective manner, and build your program.
RESOURCES
The San Diego Zoo Global Academy has a vast array of resources loaded onto its resource page. With tutorials, videos, papers, and links, you can further your knowledge. Interested in conservation? Take a look at our video on "Palm Oil as a Conservation Threat."