A Wealth of Webinars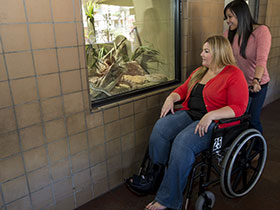 The San Diego Zoo Global Academy is committed to creating and sharing great content within our industry. This content can be distributed in various formats and cover a variety of topics. It can be informal information sharing or more formal courses for career development. One form of content being created is the webinars.
A webinar is usually a one-hour presentation, used to share valuable information—your "sage on the stage." The webinar is first presented live, allowing people to watch, listen, and ask questions, and is then posted on the Academy site for ongoing access. These are great for individuals or groups. The fee is based on a per person charge, although subscribers to the Academy can access the live webinars with their subscription and then have whole teams or groups view webinars and participate together and learn and discuss collaboratively.
Currently, there are 78 webinars available in the Academy, and new webinars are frequently scheduled. Webinar subject areas now on the site include the following list (please note there are numerous topics within each of these categories).
Americans with Disabilities Act — 2 webinars
Animal Care Training — 9 webinars
Association of Zoos & Aquariums — 2 webinars
Conservation / Education / Research — 28 webinars
Human Resources — 20 webinars
Operations / Administration — 13 webinars
Volunteers — 4 webinars
Do you want to create webinars that can be shared with your team and/or the whole Zoo and Aquarium community? The Academy's webinar production process enables all of us to create webinars for internal use (private site) and to share with others (Global Academy site). The upcoming webinar schedule is filling up fast; if you'd like to contribute to the ever-growing catalog of courses, please contact Debbie DiBacco at ddibacco@cypherworx.com. There are still some dates open in July and September.
Would you like to hear more about private sites in particular, or the Academy in general?
Please contact Linda Duca at (516) 815-2886, or lduca@cypherworx.com