Academy Contributors
To keep ahead, each one of us, no matter what our task, must search for new and better methods—for even that which we now do well must be done better tomorrow.
—James F. Bell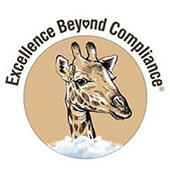 Getting Better All the Time
Leading from the Heart for Animals
By James F. Gesualdi
In my heart
there's a vast garden.
full of lush roses
where wilting and atrophy
do not occur.
—Rumi
…put (one's) heart (and soul) into something. …To do something
with one's maximum effort and passions.…
—Idioms: freedictionary.com

Go ahead. Think about it. It starts with the heart.
Take a quick look at the Excellence Beyond Compliance® logo alongside this column. One of many reasons the logo celebrates and draws upon the giraffe is because the giraffe is the tallest land mammal. It rises above its environment (symbolic of our ever-rising consciousness about animals and each other), sees distant challenges, and has an extraordinarily large heart to pump blood upward. Look closer, even the name carries its own heart.
It all really starts with the heart. Yes, our good work and good works begin with just one thought. This column has affirmed as much again and again. In truth, that single idea or thought is made possible by our heart(s). Physically, the heart is the source of strength that powers life energy to our minds and bodies. Emotionally, the heart is "home" (because that is where the heart is) of the feelings that activate and breathe life into our thinking. Spiritually, the heart is the center of our loving and transcendent "spirit." Putting our heart into it and leading from the heart for animals brings forth our "better angels" and those of all around us.
Caregiving is, like the 1983 Rick Springfield tune, "An Affair of the Heart." Animal caregiving is a special, heart-centric calling. This can be both overwhelming and the most fulfilling experience of our lives. In the zoological setting, as well as other forms of animal caregiving, we are fortunate and grateful to be able to expertly and lovingly care for our fellow beings and make their lives better every day.
Caregiving professionals, involved in the daily practice of Excellence Beyond Compliance®, go even further in elevating their professionalism, and putting their hearts, minds, and bodies into the service of animals, their interests, protection, and well-being. The animals we serve include those within our care, those in the wild, and those in other settings. What we think, feel, and do daily with and in service of animals must be consistent with our highest ideals of helping animals, people, and environments. Our attitudes and behavior, at their very best, model and inspire the sort of world we want for all life. Anything less has the potential to detract from our good and thoughtful efforts. Fortunately, the more harmonious all aspects of our being and professional endeavors, the greater the positive impact in making a difference for animals and people.

Thinking, feeling, and doing the right thing as a daily practice is the spirit of Excellence Beyond Compliance®. The way forward, practicing and doing the right things, is through the heart—through our hearts, the hearts of those whose consciousness we gently seek to raise as we continue to elevate our own consciousness, and even the hearts of the animals we love and tend to daily. That is "The Heart of the Matter" (with thanks to Don Henley), and so much more.

Manifest our love and respect for animals daily, as we learn and grow in service of them.
Awareness, information, knowledge, and practical applications all contribute to our consciousness, and our continuously improving, loving care for animals. Constant change, and the ceaseless flow of developments and new ideas, energize our hearts, fill our minds, and lift our spirits as we create the world anew. Here are several items worth understanding and reflecting upon as part of your enlightened and meaningful personal and professional journey with animals.
U.S. Animal Welfare Act (AWA) happenings to make the most of your organization's commitment to animal protection and welfare.
The U.S. Department of Agriculture (USDA) Animal Plant and Health Inspection Service (APHIS) Animal Care unit's new AWA licensing regulation instills greater accountability by requiring new licenses every three years, or sooner if the authorized number of animals is to be exceeded or certain groups of species necessitating more oversight are added to the resident animals. This is fairly straightforward, and the three-year transition to the full implementation of the new regulation is underway.
Excellence Beyond Compliance® daily practices have taken on greater significance in light of the new licensing regulation. Certain periodic, special, situation-specific practices are also more important, especially to those who intend to remain licensed under the AWA—namely, your zoological organization! Post inspection, following presentation of the inspection report (particularly if there are any noncompliant items), self-certified compliance reports should be compiled and made available to the agency, or submitted as you see fit. This documents prompt, professional attention to resolving and improving any relevant conditions or situation noted in the inspection report or observed during the inspection. Most importantly, if there are any items or incidents relating to those groups of species requiring special authorization (for example, certain nonhuman primates, wild felids, wild canids, bears, and megaherbivores identified in the licensing regulation), these self-certified compliance reports might be accompanied by more detailed improvement plans, even if the latter are merely maintained on site and available for inspection. This empowers a zoological organization to demonstrate effective, good-faith action to better protect animals and their well-being, and allows for agency feedback, as well as further guidance. Such advances also reduce the risk of potential challenges to the special authorization(s) needed along with each new license every three years, thus placing your organization in a stronger position well before the next licensing process commences. Consider also self-posting inspection reports, self-certified compliance reports, and improvement plans. Do the right thing as soon as you possibly can, and show the world your continuing fitness to protect and care for other living beings.
Another reason this is critical is the agency's withdrawal of its guidance regarding self-reporting of serious incidents. Previously, in certain circumstances, self-reporting and promptly addressing and remedying a situation might preclude a citation. Though this may have reinforced constructive action to help animals, it may have somewhat undercut accountability for the initial situation. Consequently, and in settlement of a recent lawsuit, the agency has withdrawn the guidance. Nevertheless, and especially with the new licensing requirements, self-reporting—including promptly addressing and improving any problematic situations—remains a good practice. As the agency noted in its February 2021 announcement: "Animal Care remains committed to encouraging the regulated community to continue proactively identifying, reporting, and correcting preventable animal welfare issues which may occur at their facilities."
New contingency plan regulation to be proposed
The agency's recently published semiannual regulatory agenda reported that a new proposed contingency plan regulation is coming soon. Advanced zoological organizations already have contingency plans, and they were most likely compliant with the previously rescinded contingency plan rule. That's good, but you can be even better. Take stock of all the ways in which contingency plans worked or could have been more effective during the pandemic. Engage your inspector, first responders, and other government agencies for updated input on your plan. Identify good practices worth sharing as comments when the proposed regulation is published. Remain ever vigilant, continuously improve, and share relevant expertise in maximizing the beneficial impact of the forthcoming proposed regulation. This is true leadership.
Leaders are readers of the newly revised Animal Welfare Inspection Guide!
Animal Care has released an updated Animal Welfare Inspection Guide. Anyone and everyone contributing to a zoological organization's compliance effort ought to be familiar with pertinent sections of the Inspection Guide. New sections include those relating to the processing, review, and inspection of license applications, including direction to inspectors that they carefully examine handling and staff qualifications for organizations maintaining "large carnivores, elephants, great apes, and/or marine mammals" (see section 4.19.2.2 at page 4-65). Although a new license is now required every three years, that new license for existing licensees is called "re-licensing" in the Inspection Guide. Remember, since "re-licensing" involves inspections of an already licensed facility, any non-compliances during such a licensing inspection will be cited in an inspection report. They will also need to be rectified immediately to pass a subsequent inspection in order to be "re-licensed."
Zoological professionals and zoological organizations dedicated to animal protection and well-being should review the chart of examples of Noncompliant Items/Direct/Critical (non-compliances). These pages (C-13 through C-19) provide clear, practical descriptions of escalating levels of concern and consequences. Be certain to understand the agency's operationalization of generally applicable requirements like veterinary care and handling, as well as those relating to "other warm-blooded animals" and their facilities, sanitation, space, food, water, separation, and responsible staff.
In a changing world, and within the zoological community that is all about animals and their lives, there's always more to know…
The American Bar Association (ABA) recently adopted a resolution calling for an "international convention for the protection of animals that establishes standards for the proper care and treatment of all animals to protect public health, the environment, and animal well-being" (https://www.americanbar.org/content/dam/aba/administrative/news/2021/02/midyear-resolutions/101c.pdf). Timely, in light of the pandemic, this breakthrough initiative is something the zoological community should study and explore contributing toward. As an early reviewer and commenter, it is incumbent upon zoological professionals to be aware of and engage with such expressions for change. And this ties in nicely with similar, localized efforts launched by individual zoological organizations.
Yet another push for change is being led by Dr. Jane Goodall and other leaders and organizations (including some that are critical of the zoological world). They have asked the Associated Press to update its AP Stylebook with respect to animal pronouns. The proposed changes would substitute terms like "they," "he," "she," "he/she," and "who" for its present terms such as "it" and "that"—to recognize animals as conscious beings rather than inanimate objects. This is also reflective of the evolving public consciousness about animals, something the zoological community has aided in even as our own consciousness continues to adjust to such changes. Prior columns worth reviewing have invested many words into encouraging an updated means of communicating our noble mission, good work, and good works. Words matter, and our vocabulary should be constructive and authentic to lift us up, and move us and our work on behalf of animals forward. That is leading for animals.
Final words from the heart
The San Diego Zoo Wildlife Alliance Academy affords the opportunity for these ideas and words to go deep into the heart of the zoological community. That is both appreciated and the right thing to do—especially in a world where San Diego Zoo Wildlife Alliance is committed to collaboratively helping us all to continuously improve in order to make this a world where all life thrives. Advancing animal interests, protection, and well-being taps our intellects, moves our feet, and enlivens our hearts—leading from the heart for animals.
When you stop putting yourself on the line, and you don't touch your own heart, how do you expect to touch other people?
—Tori Amos
Successful people, no matter their jobs, have put their hearts into their work. They love what they do. They are successful because they care and truly are interested in what they are doing.
—Emmet Fox
© 2021 James F. Gesualdi, P.C. The opinions expressed herein are solely those of the author. This is not, nor should it be construed as, legal advice.
"Something Fishy is Going On"
By Dr. Rob Jones, "The Aquarium Vet"
Another year seems to be disappearing incredibly quickly. COVID-19 has become all consuming. It is to be hoped that with the global rollout of vaccinations, in the next 6 to 12 months, the world will start to resume some normalcy again. However, I am sure it will be a new normal and not what existed previously.
A paper published earlier this year took a revealing look at the development of epaulette shark eggs at different water incubation temperatures: "Future thermal regimes for epaulette sharks (Hemiscyllium ocellatum): growth and metabolic performance cease to be optimal," by C.R. Wheeler et al., in Scientific Reports 11:454, 2021. In aquatic ectotherms, water temperature affects development rates, body condition, and performance. Embryonic stages may be the most vulnerable life history stages, especially for oviparous species already living at the warm edge of their distribution, as embryos cannot relocate to cooler water during this developmental window.
In the study, 27 epaulette shark embryos were reared at temperatures of 80.6 degrees Fahrenheit (27 degrees Celsius), average summer conditions; as well as 84.2 and 87.8 degrees Fahrenheit (29 and 31 degrees Celsius), possible future water temperatures as a result of climate change. The researchers tracked growth, development, and metabolic costs—both in the egg and after hatching. The sharks reared at 87.8 degrees Fahrenheit (31 degrees Celsius) weighed significantly less than their counterparts reared at 80.6 degrees Fahrenheit (27 degrees Celsius) and exhibited reduced metabolic performance.
It appears that many important growth and development traits in this species of shark may peak after 80.6 degrees Fahrenheit (27 degrees Celsius) and start to become negatively impacted nearing 87.8 degrees Fahrenheit (31 degrees Celsius). This is alarming, given that this temperature range is well within ocean warming scenarios predicted for this species' distribution over the next century.
This is just one more piece of science that warns of the biologic effects of an increase in the world's temperatures. I know I am preaching to the converted about the issue of climate change, but as aquariums and zoos, we really need to be looking at every way possible to reduce our greenhouse emissions, both at work and at home.
Aquarium School
The Aquarium Vet is very pleased to announce the launch of Aquarium School (aquariumschool.com). The vision of The Aquarium Vet is to advance the health and welfare of aquatic animals in aquariums and zoos globally. Aquarium School is aimed at improving animal welfare in home and hobbyist aquariums. There is massive potential to educate and advise people with a home aquarium, and in doing so, improve the health and welfare of these fish and aquatic invertebrates within their homes. Even if you are an experienced aquarist, it is worth watching these to refresh your memory—and you may even learn something new.
The series of free starter videos available at the Aquarium School website covers the Nitrogen Cycle in easy-to-understand detail. Please feel free to share the link with any colleagues and friends you think may be interested. While there is currently a single series of lectures, this will be constantly updated with new content in various formats, presented in a very easy-to-follow and understandable manner.
E-quarist™ Courses—Academy Subscriber Special!
San Diego Zoo Wildlife Alliance Academy is excited to share an additional Academy subscriber benefit regarding our collaboration with The Aquarium Vet: as an Academy subscriber, you are now entitled to a 10 percent discount on the E-quarist™ courses. We are also happy to offer one of our free monthly webinars. The Aquarium Vet has a free Aquatic Animal Welfare Module (which focuses on Fish and Aquatic Invertebrates), designed for aquariums and zoos. To register for this Aquatic Animal Welfare Module, visit theaquariumvet.com.
For more information about the Academy discount, or anything about the e-quarist™ course, including next month's free webinar, please contact katrina@theaquariumvet.com.